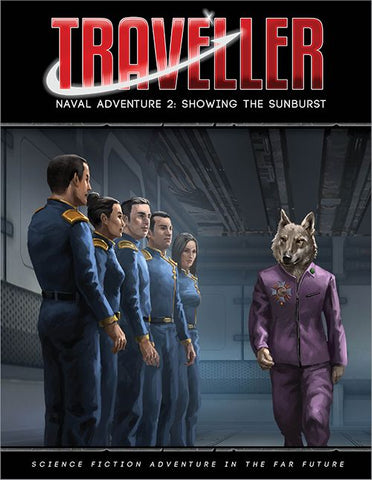 Traveller: Naval Adventure 2 - Showing the Sunburst + complimentary PDF
Taking command of a warship assigned to the troubled Jewell-Vilis naval station, the Travellers are sent on what looks like a simple flag-showing mission. All they have to do is visit a few worlds, remind friend and foe alike that the navy is around, and give assistance to Imperial diplomats operating in the region. There is, however, a sealed section in their orders – to be opened after their ship leaves port.
Ordered to quietly locate misappropriated Imperial ships, the Travellers are immediately plunged into the murky politics of the region. They must find the vessels without appearing to look for them, and make a decision when they succeed. Should they deprive pro-Imperial factions of their means of self-defence? Should they look closely at how the ships were obtained? And what of the situation on Arden? An officer from a foreign power faces trial and execution there. Is it in the interests of the Imperium to support the process, or to obstruct it? Weighty decisions are made under the sunburst banner, and a mistake could move a tense situation another step towards war.
Shakedown Cruise is a complete naval mission for Traveller. A copy of the Element Class Cruiser: Shipbuilder's Blueprints box set is required.
---
We Also Recommend