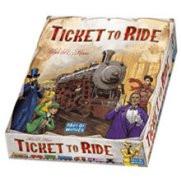 Demonstration copy available in store - Try before you buy!
Board game, 2-5 players, ages 8+
A railroad adventure board game from noted game designer, Alan R. Moon. With elegantly simple gameplay, Ticket to Ride can be learned in 3 minutes, yet players face strategic and tactical decisions that vary with every turn. Players collect cards of various types of train cars that are then used to claim railway routes connecting various cities across a map of North America. The longer the routes the more points they earn.
---
We Also Recommend