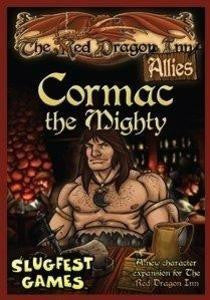 The Red Dragon Inn: Cormac the Mighty (Allies)
This is a game expansion, NOT a complete game.
The Red Dragon Inn: Allies Cormac the Mighty expands the party at the Red Dragon Inn with a brand new human barbarian, introducing a new rage mechanic that allows Cormac to hit harder at the cost of gaining more than the usual amounts of Alcohol Content. Careful management of Cormac's rage level is the best way to victory. The Red Dragon Inn: Allies is a series of expansions for any standalone The Red Dragon Inn game. Each Allies set includes a single Character Deck, plus components needed to add an additional player to a game of The Red Dragon Inn.
---
We Also Recommend