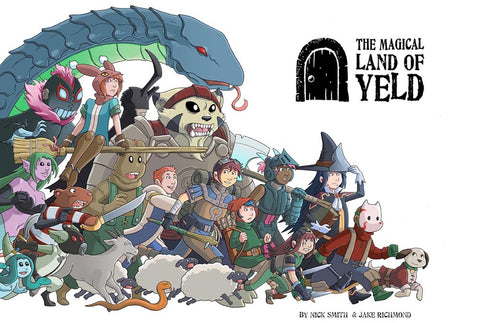 The Magical Land of Yeld
Somewhere there is a door.

A door to a magical land. A land of secrets and treasure. Of exploration and adventure. Where children can become heroes, discover their inner strength and stand against monsters and magic. And once you enter, the only thing you have to fear is that you can never go home again!

The Magical Land of Yeld is an all ages tabletop role playing game based on the fantasy world of the popular comic Modest Medusa.


Features:

- A self contained role playing game, including special instructional comics that help you learn how to play!

- Build and customize a child hero, with 9 Friend Types, 8 Heroic Jobs, 6 Advanced Jobs and 6 Monster Jobs! Plus hundreds of items, spells and "special dice" to collect and master!

- Explore the magical land of Yeld with unique map, calendar and travel rules! As your children travel and explore they'll grow older and stronger, but they'll have to find a way to escape Yeld before their 13th birthdays, or they'll become monsters and be trapped in the magical land forever!

- Fights come to life with team based tactics inspired by classic JRPGs and adventure games like Secret of Mana, The Legend of Zelda and Final Fantasy Tactics!

- Use the Monster Formula to create custom monsters, or choose from over 100 ready to play Monsters!

- Over 500 illustrations and 25 pages of new comics by Modest Medusa creator Jake Richmond!
---
We Also Recommend