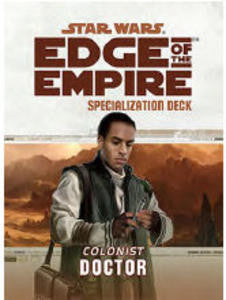 Star Wars Edge of the Empire: Doctor Specialization Deck
Each Specialization Deck comes with a reference card, which details how to use the twenty included talent cards. With a description of each talent, along with the icons for dice needed to make any relevant checks on each card, Specialization Decks ensure you'll have all the information you need to keep your head in the game. Our Edge of the Empire Specialization Decks don't replace the talent trees found in the Core Rulebook, but are instead an excellent optional tool, which help you stay focused on the game!
Whether you're colonizing a new world, or engaging in shady deals at the fringe of the galaxy, these six new Specialization Decks will keep you focused on the action. Purchase your Specialization Decks today!
---
We Also Recommend