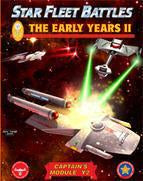 Star Fleet Battles: Y2: The Early Years 2
If this product is sold out, it might still be possible to order it in - assuming it is still in print and in stock at ADB. We place regular direct orders with ADB, so please get in touch via email if you would like to order it.
Star Fleet Battles Supplement by Amarillo Design Bureau
Before the wars, there were other wars, and rumors of wars. Return to the Early Years, when the ISC had not been formed, the Feds and Gorns had never met, and the Carnivons and Paravians were still with us! 120-page SSD book, 100-page rulebook, 216 die cut counters. Complete Kzinti Usurper War campaign. Hydran hellgun-armed dreadnoughts. Complete ISC early history, including their five separate planets, each with their own unique ships and weapons (plasma blaster, plasma cannon, plasma-missile, plasma-V torpedo, plasma Vortex).
---
We Also Recommend