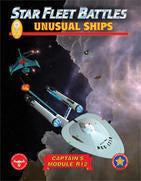 Star Fleet Battles: R12: Unusual Ships
If this product is sold out, it might still be possible to order it in - assuming it is still in print and in stock at ADB. We place regular direct orders with ADB, so please get in touch via email if you would like to order it.
A hundred new starships come to Star Fleet Battles, but not just any starships. Unusual variants, outrageous designs, prototypes, failed experiments, and the runners-up in design competitions. Heavy war cruisers: if they were good, why were so few built? Stellar fortresses: the final bastions of the General War. Battle frigates: getting something useful out of a small ship. Space patrol ships: two gunboat flotillas, no fighters. Seltorian battlewagons: how the Tholian spheres were destroyed. Fleet oilers: small boring ships, but without fuel, nothing moves. And dozens more of the strangest and most curious ships ever seen. Includes 140 counters, 97 SSDs, ship descriptions, and scenarios.
---
We Also Recommend