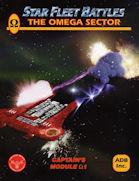 Star Fleet Battles: O1: The Omega Sector
If this product is sold out, it might still be possible to order it in - assuming it is still in print and in stock at ADB. We place regular direct orders with ADB, so please get in touch via email if you would like to order it.
The Omega Sector: Beyond the Void, Behind the ISC, lies... OMEGA! A new sector of the galaxy for your conquest. 11 new races, 24 new weapons, 12 new systems, and 18 new wars, along with 432 counters, 80-page rulebook, and 47 new ships.
---
We Also Recommend