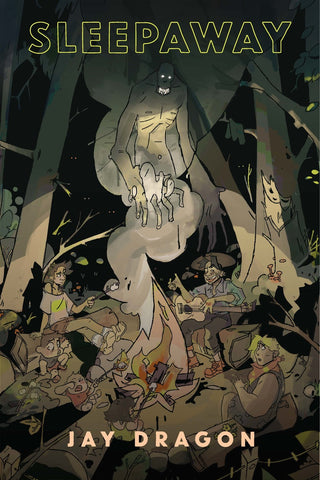 Sleepaway + complimentary PDF
Ennie Award 2020 Judges' Spotlight Winner
Indie Groundbreaker Award 2020 nominee for Most Innovative, Game of the Year

By Jay Dragon
Sleepaway gives us long hazy days, chilled summer nights, kids screaming and chasing fireflies, crackling campfires, and a gaunt, cruel monstrosity forever hiding just out of sight, always asking, "What do you do next?"

In Sleepaway, you play as a group of camp counselors at a not-so-ordinary summer camp besieged by a strange and ominous cryptid, the monstrous Lindworm. It is a GMless horror game for 3-6 players, which uses the Belonging Outside Belonging system created by Avery Alder and Ben Rosenbaum. In it, players take control of not only their characters (which include archetypes like the Lifeguard, the Songleader, the Crafter, or the Athlete) but also the world around them, picking up Setting Elements to react to their friend's decisions. As the game goes on, the players also invite the Lindworm to play with them, causing horrific events to callously occur throughout the placespace.

The game is designed to be very modular, and can be played online, with just pens and paper, or with a full affair of a corkboard and pushpins, to represent the camp becoming increasingly frayed. While it works well for oneshots (and has rules to support that), Sleepaway also contains rules for a full campaign, with evolving setting elements, rituals, and a dramatic conclusion.


---
We Also Recommend