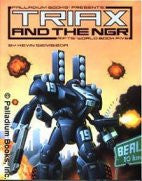 Rifts: World Book 5: Triax & NGR
The New German Republic (NGR) is surrounded and besieged by the hostile Gargoyle Empire - an empire of giant monsters. Only the superior robotics and weapons technology of Triax keeps the monsters at bay, but for how long? This epic World Book presents the Triax robots, power armor, cyborgs, and world setting that is Rifts Germany and surrounding region. More than 100,000 copies sold!
35+ weapons and explosives, plus body armor and other gear.
19 combat vehicles from tanks to jet aircraft.
12 Triax giant robot suits and vehicles.
9 other types of Triax robots and drones.
8 Triax Cyborgs plus bionic components.
Triax power armor units including the T-550 Glitter Boy.
11 NGR Military O.C.C.s.
The Euro-Juicer and designer drugs.
Gypsy O.C.C.s and their special abilities.
The Gargoyle Empire and its technology and war machines.
21 notable weapons of the Gargoyle Empire and 4 R.C.C.s.
Setting and regional overview, Brodkil, Gene-Splicers and more.
Cover and art by Kevin Long. 13 pages of comic book story.
224 pages - Cat. No. 810 - by Kevin Siembieda.
---
We Also Recommend