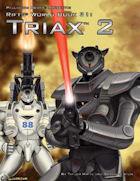 Rifts: World Book 31: Triax 2
Triax' Two is the long awaited and hotly anticipated sequel to the hugely popular Rifts' World Book 5: Triax' & The NGR (more than 100,000 copies sold). A ton of new weapons, vehicles, power armor, giant robots and much more make this a toy box Rifts fans will not be able to resist.
27 new Triax weapons plus new body armor and additional gear. 10 new Triax giant robots including the Talon and Devastator Mk II. 10 cars and commercial vehicles plus more than 50 special features. 9 new robot drones including robot assistants, pets and Spy 'Bots. 6 new Triax power armor suits, including the Predator II, Ulti-Max II, War Eagle, Fat Boy, and a flying Glitter Boy. 5 new aircraft and other combat vehicles. The New Luftwaffe ' not what you are expecting. Cybernetic airframes and Cyborg Combat Pilot O.C.C. that will blow your mind. Drop ships, deployment pods and makeshift fortifications. Mobile NGR forts and bases. Zoom, Atomix Powder, Rat & other drinks that augment the user. History of the NGR and the Gargoyle War. History of Triax. The VGN ' German Black Market. Mercenaries, adventurers, work for hired guns and Gargoyle bounties. The New German Republic, its society, and key cities. The Autobahn, Railbahn and other places of interest. The New German Republic's military and plans for the future. The latest on the Gargoyle War and Gargoyle Empire. Mercenaries, adventurers, outsiders and surprises. Update on the Gargoyle Empire and surrounding region. More ideas for battles and adventure. Cover by Scott Johnson. Interior art by Michael Wilson, Allen Manning, Brian Manning, Kent Burles, Mark Dudley and Amy L. Ashbaugh. Written by Taylor White, Brandon Aten and Kevin Siembieda. 192 pages ' Cat. No. 881.
---
We Also Recommend