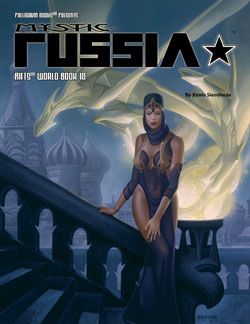 Rifts: World Book 18: Mystic Russia
Monsters and magic galore! Inspired by Russian myth, but given that ol' Rifts® twist. Plus more on the Russian people, life styles and the Warlords of Russia.
Mystic Kuznya and their magic weapons, armor and items.
Russian Necromancer, Bone Magic and new spells.
Fire Sorcerer and Fire Magic (new).
Old Believer and Nature Magic (new).
The Night Witch and Spoiling Magic (new).
Russian Demons and their place in the world.
Woodland Spirits from ancient myth.
The Slayer and other new O.C.C.s.
Russian Gypsies including the Beguiler and Enforcer.
Sovietski tanks and war machines.
Tons of and adventure ideas.
Cat. No. 833
Page Count:

 

176 pages.
Cover By:

 

John Zeleznik.
Interior Art:

 

Perez, Johnson, Dubisch, Wilson & Breaux.
Written By:

 

Kevin Siembieda.
---
We Also Recommend