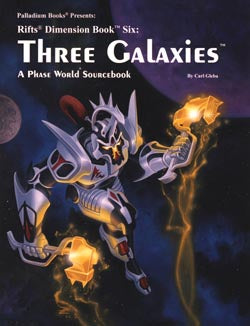 Rifts: Dimension Book 6: Three Galaxies
A guide to the Three Galaxies, this book takes a look at dozens of solar systems, notable planets, select alien races, people, civilizations and monsters, as well as space anomalies, spaceships and more. This is another sourcebook that is ideal for campaigns involving the Minion War™, the Thundercloud Galaxy™, Phase World® and adventures in the Three Galaxies.
An overview of the Three Galaxies.
16 O.C.C.s/R.C.C.s including the Obsidian Spell Thief and Space Warlock.
A half dozen monsters plus the mysterious Necrol.
More information on the Intruders, Kreeghor, Splugorth and others.
Draygon Industries and their weapons.
Demon Stars, Demon Planets and magic starships.
Notable spaceships and weapon systems.
The monstrous Necrol and their living weapons and spacecraft.
Notable equipment of the Three Galaxies.
A wealth of background material and adventure ideas.
Written by Carl Gleba.
160 pages - Cat. No. 851.
---
We Also Recommend