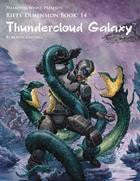 Rifts: Dimension Book 14: Thundercloud Galaxy
Thundercloud Galaxy is the perfect companion to Rifts Dimensional Outbreak to expand one's gaming Megaverse in the Three Galaxies. History, aliens, weapons, spacecraft, and adventure in a galaxy far, far away.
The galaxy described; history and time-line. 16 new alien R.C.C.s, plus notes on the Exiles and Dominators. 6 new O.C.C.s. Monster and Animal Creation Tables. Guidelines for Magic Weapon Making. Notable weapons and technology. Notable organizations and secret societies. The Trensik Mercenaries. The Vortex Region. The Splugorth Kingdom of Desslyth and many other notable worlds. New worlds of adventure.
---
We Also Recommend