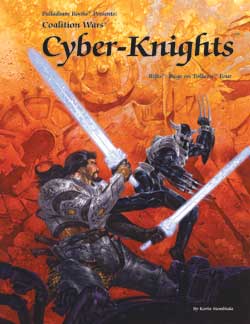 Rifts Coalition Wars Chapter 4: Cyber Knights
The Cyber-Knights are divided as half stand by their founder and leader Lord Coake, and half fight at the side of Tolkeen.
This book examines the rifts between these to bands of heroes with a focus on those fighting for Tolkeen.
Secrets of the Cyber-Knights.
Key Cyber-Knight leaders, heroes, and villains.
The knights' place in the war.
World information, history and surprises.
Adventure ideas galore.
Cat. No. 842
Page Count:

 

112 pages.
Cover by:

 

Dave Dorman.
Interior Art:

 

Perez, Breaux, Wilson, Johnson and Williams.
Written by:

 

Kevin Siembieda with Bill Coffin.
---
We Also Recommend