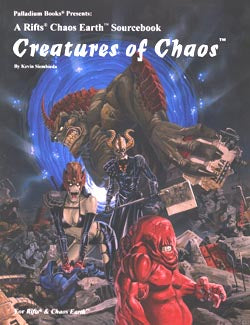 RIFTS: Chaos Earth - Creatures of Chaos
Creatures of Chaos™ is jam-packed with unearthly creatures that represent the menacing and the bizarre, the mischievous and the maniacal. Some are supernatural hellspawn, others are just plain weird, all are dangerous.
Dozens of demons and monsters specific to the Apocalyptic setting. All new.
More on NEMA and how they respond to the Demon Plagues.
Human pawns and madmen who serve supernatural evil.
Background setting, missions and adventure ideas galore.
Cat No. 661
Page Count: 64 pages.
Cover by: Mark Evans.
Interior art: Williams, Dubisch and others.
Written by: Kevin Siembieda.
---
We Also Recommend