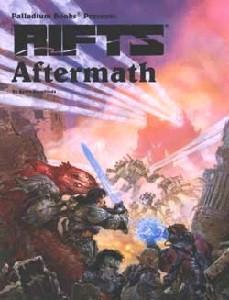 Rifts: Aftermath
The aftermath of the Coalition-Tolkeen War has put into motion a number of events and conflicts that will last long after the Final Siege. It's all spelled out here.
The fate of the Tolkeen refugees, Daemonix and key factions in the War.
Resistence fighters and new trouble for the Coalition.
Another Juicer Uprising led by Julian the First as he stares down death.
The appearance of Larsen's Brigade.
The continuing role of the Cyber-Knights.
Castles in the clouds.
Adventure ideas in and around Tolkeen.
50+ page updated World Overview, circa 109 P.A.
Cat. No. 846
Page Count: 208 pages.
Cover by: Dave Dorman.
Interior Art: Perez, Johnson, Breaux, Wilson, and Burles.
Written by: Kevin Siembieda.
---
We Also Recommend