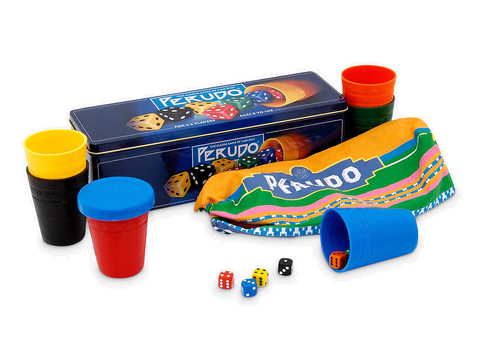 Perudo
Ever popular dice game. "The second most addictive thing to come out of South America" Stephen Fry
Perudo is a version of the popular dice game played in Peru; a version of liar dice which is part-luck and part-skill. It requires a quick mind and excellent bluffing ability.
The combination of deception, skill and laughter make it the perfect after dinner game.
Royalty play it. Supermodels play it. Socialites play it. Musicians play it. London's private member's clubs are obsessed by it. Perudo's famous fans including Stephen Fry, Sting, Hugh Laurie, Richard Branson (who even used to keep it on his aeroplanes!), Mariella Frostrup, Viscount Linley, Tom Stoppard, Susannah Constantine, The Jaggers, Keith Allen, Sienna Miller and Jonathan Ross.
---
We Also Recommend