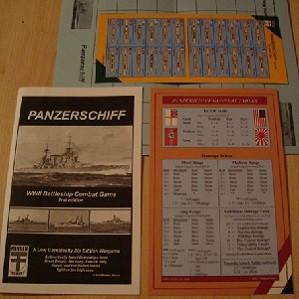 Panzerschiff 2nd Edition
Minden Games Panzerschiff is a introductory level, low complexity, two-player game of World War II naval combat. Authentically rated battleships and battlecruisers from Great Britain, Germany, France, Italy, Japan, and the United States fight surface battles on the high seas. The game was originally released in Panzer Digest, and this expanded second edition contains more ships, upgraded components, and advanced rules.
The game includes a 16-page illustrated rules booklet, 24 color, thick card ship counters that need to be cut apart prior to play, color Reference Card, and small map. Ships are rated for type, gun size, speed, and armor, and include the following ships: Britain Hood, Prince of Wales, Rodney, King George V, Renown, and Queen Elizabeth; Germany Bismarck, Tirpitz, Gneisenau, and Scharnhorst; France Dunkerque, Strassbourg, and Richelieu; Italy Littorio, V.Veneto, and Roma; Japan Yamato, Kongo, Musashi, and Nagato; USA Iowa, Alaska, Missouri, and North Carolina.
The game system is simple, sets up quickly and plays quickly (most scenarios can easily be completed in 15 or 20 minutes). The game allows you to set up actual or hypothetical WW2 encounters involving battleships and play them to conclusion in a short period of time.
---
We Also Recommend