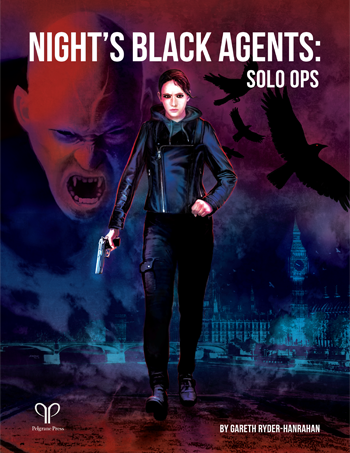 Night's Black Agents: Solo Ops + complimentary PDF
You used to be a spy. You were part of the clandestine world, backed up by the full strength of the shadow state. Then you asked the wrong questions, discovered things you shouldn't know about who really rules the world.
You found the truth. You found the vampires – and got burned.
You're all alone against them.
One player. One Gamemaster.
The odds are against you. You'll have to use every edge you can muster, every contact you can blackmail, every weapon you can find just to survive. But maybe, just maybe, you can fight back against the monsters.
Create your own Agent, or take on the role of Leyla Khan – an ex-MI6 officer who must confront her own half-remembered past as a thrall of the vampires!
Use the GUMSHOE One-2-One rules, designed for the thrilling intensity of head-to-head play. Navigate complex mysteries with investigative abilities! Overcome challenges with luck and mastery edges! And if you fail, pick up Injury, Heat and Shadow problems that'll cause trouble later on.
Play through three complete adventures for Leyla Khan, or use them as templates to create your own mysteries:
Never Say Dead:

 

Leyla wakes up in a hospital with only fragmentary memories of her past life. She was left for dead at the side of the road. Who's trying to kill her? Who's trying to save her? Who can she trust?
No Grave For Traitors:

 

A drug war in Spain. Mysterious intrigue in London. Haunted castles in the Carpathians. Can Leyla unravel the mystery that connects these events, and stop her rivals from unlocking the door to an ancient horror?
The Deniable Woman:

 

Leyla's tasked by her old allies at MI6 to investigate the disappearance of a British spy in Moscow. Can she find the missing man – or will she, too, vanish into the shadows of the Kremlin?
We'll give you the tools you need to battle the undead princes and crime lords, all alone. But will it be enough? Find out, with Night's Black Agents: Solo Ops!
---
We Also Recommend