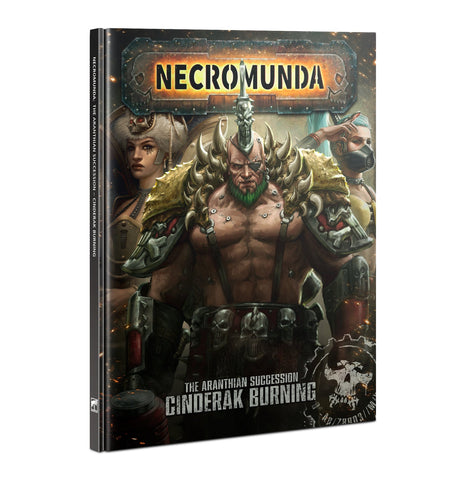 Necromunda: Aranthian Succession - Cinderak Burning
With the opening of the Great Rift, the planet of Necromunda is plunged into lawless darkness. As factions vie for control, an assassination brings House Helmawr to its knees – opening a power vacuum that may doom the whole planet. Choose your side in the Succession campaign, and fight for the right to rule.

This brand new narrative expansion marks the start of a new era for Necromunda, bringing the timeline up to date with events in the wider 41st Millennium and introducing a new campaign and new rules to add even more variety, scope and excitement to your battles on Necromunda.

This 128-page hardback supplement contains:

– The Great Darkness: Details of the events that unfolded on Necromunda following the opening of the Great Rift, which split the Imperium in two and caused the great heat sinks in the heart of each hive city to cool. Includes a full timeline of the Age of Succession, and a roster of Lord Helmawr's children (legitimate and otherwise).

– The Succession Campaign: Rules for playing the first in a series of linked campaigns that take players through the events of the Great Darkness and the start of the rebellion against Lord Helmawr's rule. Gangs fight not just over Territory, but to gain Sympathisers in their struggle for legitimacy.

– Narrative Scenarios: 12 narrative scenarios that reflect the events of the Great Darkness and the following crisis, from chasing down an Assassin in the Spire to issuing a personal honour duel in the House of Pain.

– Dramatis Personae: Four new Dramatis Personae to use with your gang: Lady Haera, 13th Daughter of Lord Helmawr; Athera, the personal champion of Queen Adina; Gorshiv Hammerfist, the leader of Shiv's Crushers; and Vespa 'Minx' Merdena, the wild child of Slate Merdena.

– Escher and Goliath Rules: Additional rules for use in games of Necromunda, including vehicle crews for Escher and Goliath gangs, as well as two unique vehicles; the agile Escher Cutter and brutal Goliath Mauler. Also included are new vehicle gang tactics for both House Escher and House Goliath gangs.

This is an expansion to Necromunda – you'll need a copy of the Necromunda: Ash Wastes Rulebook (or the Necromunda core rules and Book of the Outlands supplement) to use the contents of this book.
---
We Also Recommend