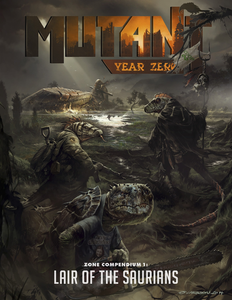 Mutant: Year Zero: Lair of the Saurians + complimentary PDF
This book comes with a free PDF version courtesy of the publisher in conjunction with the "Bits 'n' Mortar" scheme. A link from which the PDF can be downloaded will be emailed to the address you enter at the checkout once we have confirmed payment, which will normally be within 2 working days* of receipt of orders for products that are currently in stock. (*not including Sundays or UK national holidays). PLEASE NOTE - you will need to enter a valid email address at checkout in order to receive the PDF.Zone Compendium 01: Lair of the Saurians is the first official supplement to the Mutant: Year Zero RPG. This 32-page booklet is packed with thrilling scenario locations and useful tools for the the game. You will receive the PDF immediately on purchase.
Features:
Lair of the Saurians: By an islet in the dark waters of the Zone rests a huge rusted metal tube, rumored to hold rich treasures of the Ancients' days. But are its reptilian inhabitants friends or foes?
The Oracle of the Silver Egg: Stalkers say that the man in the metal dwelling in the swamp knows the answers to any question. They say he can even show the way to Eden. But some who go to visit the oracle never return.
A Seed of Evil: The Ark is threatened by an enemy like none other before it. One by one, the People turn into something ' different. Who - or what - is behind it all?
The Family Homestead: The world may have ended, but one family isn't about to let that little fact change their way of life.
Long Distance Travel: Rules for leaving the Zone and travelling far and wide across continents.
Monster Generator: Create new and unique Zone monsters with just a few quick dice rolls.
---
We Also Recommend