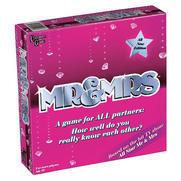 Mr & Mrs Game
Party Game.
Players 2+. Ages 10+
Publisher: University Games
The Mr and Mrs game is a game that's suitable for all partners. How well do you know your partner? Can you remember the last time they complimented you on your appearance or do you know the heaviest weight they have ever been?
The Mr and Mrs game teases out answers from questions, some you may not expect so watch out for the blushes and blank looks.
You'll be able to find out just how well you know your partner with this brilliant game! Its guaranteed to cause laughter and loud denials amongst partners so be prepared. The Mr and Mrs game is a great way to spend an evening with friends and family.
---
We Also Recommend