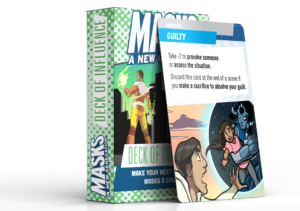 Masks: A New Generation: Deck of Influence
The Deck of Influence has 55 cards, each with full-color art by Michael Lee Lunsford, layout by Daniel Solis, and text by Brendan Conway, with a tuckbox by Sarah Richardson.

It includes 30 Influence cards in five different sets, one for each PC at your table. When someone has Influence over you, you can just hand them one of your cards, and they'll have a special reminder with cool art and all the rules they need in an easy to reference form.

Also included are 25 condition cards, reflecting each of the five conditions in Masks: Afraid, Angry, Guilty, Hopeless, and Insecure. Each kind of card has its own art and rules for using conditions.

The Deck of Influence will not only spruce up your table, but will make your game run as smoothly as possible!
---
We Also Recommend