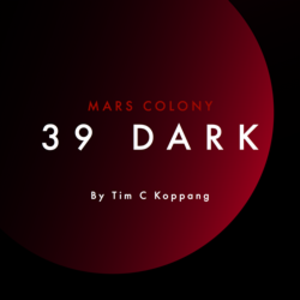 Mars Colony: 39 Dark
A solar day on Mars is 39 minutes and 35 seconds longer than on Earth. We will use that time to take back our planet.
'39 Dark Member
39 Dark is a sequel to my 2010 game, Mars Colony. Like its predecessor, 39 Dark is a two-player, sci-fi RPG; however, this time the story is told from the perspective of the people. It's a game about political freedom and standing up for what's right.
Life on the burgeoning Martian colony is hard. In the midst of political corruption, equipment failure, extreme weather events, and civil rights crack-downs, a new voice has risen up from the people. That voice is the up-and-coming protest movement, 39 Dark, which is guided by its newly appointed leader, Lane Novak.
39 Dark is a tabletop roleplaying game designed specifically for two players. One will take on the role of the 'savior' of the resistance movement, 39 Dark. The other will be responsible for all the various problems that are pressing down on the citizens of Mars. The object of the game is to tell a meaningful story about Lane Novak's attempt to change Mars Colony for the better and cope with her own sense of self-worth in the face of mounting violence and political backlash.
The world is one plagued by oppression, apathy, and entrenched interests that threaten to divide the movement and squelch political freedom. It is a game inspired by modern political unrest worldwide (e.g., Occupy Wall Street, Arab Spring), and built to explore the costs and rewards of direct action.
---
We Also Recommend