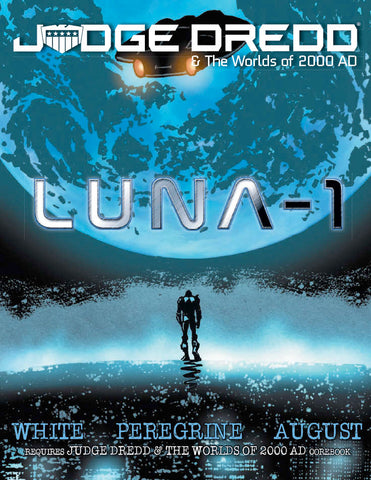 Judge Dredd & The Worlds of 2000 AD Roleplaying Game: Luna-1
ON THE LUNA FRONTIER ONLY THE STRONG SURVIVE!
Judge Dredd's world extends beyond the borders of Mega-City One. The Moon provides new challenges to Judges, Perps and Citizens who choose to escape the claustrophobic cityblocks and make a life for themselves… amidst the oxygen-short, crowded and lawless expanse of the Luna-1 colony.
Get assigned to the moon to keep the peace as Judges in the Luna Marshal campaign, or deal with a criminal gang in the frontier town of Grey Rock as Civilians and Perps in Sundance Rising.
With expanded rules for Luna characters, new Judge careers including the Luna Judge, Zero Squad, and non-Judge careers such as the Loonie Cultist and Gunslinger, in-depth descriptions of Luna-1 and the surrounding areas, as well as the Titan penal colony, and summaries of more of Dredd's early case files, this supplement is an essential addition to the Judge Dredd & The Worlds of 2000 AD roleplaying game.
---
We Also Recommend