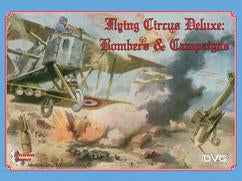 Flying Circus Deluxe: Bombers & Campaigns (Down in Flames WWI)
WW1 Aerial Wargame
This game opens up the skies of WWI for a new flying adventure. Fans of the WWII Down in Flames games will quickly learn the new rules and enjoy the new decisions and options offered by the new game. New fans will be up and flying within 15 minutes of reading the rules.
Players customize every mission by selecting the leader and number of wingmen they lead into combat. The WWI aircraft feature a new level of detail with traits that give bonuses and penalties for climbing, diving, turning, and structure. All the famous aircraft are included: Nieuport 17, SPAD XIII, Sopwith Camel, Albatros DIII, Fokker Dr. I, and Fokker DVII. Action cards such as the Chandelle, Stall Turn, and Side Slip re-create the feel of WWI dog-fighting. Game supports two or more players.
Contents: 220 cards, rules booklet, 6 campaign cards.
---
We Also Recommend