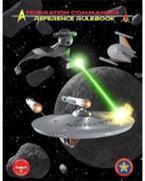 Federation Commander: Reference Rulebook
If this product is sold out, it might still be possible to order it in - assuming it is still in print and in stock at ADB. We place regular direct orders with ADB, so please get in touch via email if you would like to order it.
Everything In One Place!
The most requested Federation Commander product, the Reference Rulebook is the complete rulebook players have demanded. This is the complete rulebook, with all of the rules from Klingon Border, Klingon Attack, Romulan Border, Romulan Attack, Tholian Attack, Booster Zero, Battleships Attack, Communique, Distant Kingdoms, Orion Attack, and Captain's Log. This includes all of the RULES with all of the updates, revisions, examples, expansions, corrections ... all of it!
This is a RULE book and does not include scenarios or ship descriptions. It's just the rules, ma'am.
But it is ALL OF THE RULES, in one book, in order, front to back, with everything added, inserted, edited into the rules, and rewritten to clarify the rules and make them high and tight, ready for battle.
---
We Also Recommend