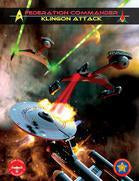 Federation Commander: Klingon Attack
If this product is sold out, it might still be possible to order it in - assuming it is still in print and in stock at ADB. We place regular direct orders with ADB, so please get in touch via email if you would like to order it.
This expansion to the Federation Commander system adds 16 new ships to the game in full-color laminated glory! This adds:
New ships: Fed BCJ, Police; Klingon D5, D5W, E4; Kzinti NCA, DN, BCH, CL, CM, DW; Tholian DD; Orion LR and Salvage Cruiser; Free Trader.
New Monster: Juggernaut! An extra-galactic death machine!
New Scenarios (Day One): The Mighty Hood Goes Down, the Alkairik Convoy; Delay in Sector; Target of Opportunity; Attack on Battle Station K3; Raid on Rukyverk; Refueling Roulette; The Old Shell Game.
New Scenarios (other): Showdown at Grimrock; Juggernaut; Derelict; Repair Rendezvous.
Two planetary map panels, giving more space to fight in and more planets to fight over! Components: 16 ship cards, 16-page ship/scenario book, two hard-mounted map panels (planets), 40 one-inch counters; over 100 half-inch markers.
This is an expansion to the boxed game Federation Commander: Klingon Border You must have that product to use Federation Commander: Klingon Attack
Boosters 4-5-6 provide extra copies of ships from Klingon Attack and some new ships. Squadron Boxes 4-5-6 provide one miniature for each ship type in Klingon Attack. Border Box 2 provides 24 miniatures which 'fill out' the complete set of 40 ship cards that result from combining Klingon Attack with boosters 4-5-6.
---
We Also Recommend