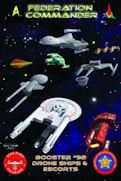 Federation Commander Booster 92: Drone Ships & Escorts
If this product is sold out, it might still be possible to order it in - assuming it is still in print and in stock at ADB. We place regular direct orders with ADB, so please get in touch via email if you would like to order it.
Expand your fleet's capabilities with this booster, which includes eight 'combat variants' including drone cruisers (Federation, Klingon, Kzinti), aegis escort cruisers (Romulan, Gorn, Lyran, Seltorian), and a Tholian Patrol Corvette with web generators.
Counters for these new ships are in Hydran Attack.
---
We Also Recommend