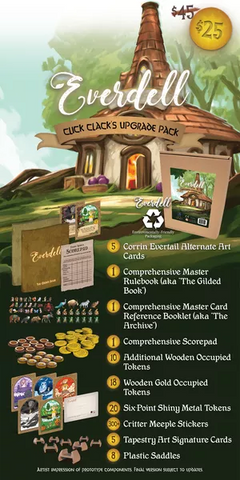 Everdell: Click Clack's Upgrade Pack
This upgrade pack allows owners of the Everdell base game and expansions to get the upgraded components from the Everdell Complete Collection without needing to buy anything they already have.
There are two versions of this upgrade pack. The "Big Ol' Box of Storage" includes the Collector's Edition box (with insert and card dividers) and "Click Clack's Upgrade Pack" doesn't have the box (or insert and dividers.) Otherwise the contents are the same.
Contents:
5 Corrin Evertail Alternate Art cards
1 Comprehensive Master Rulebook (a/k/a "The Gilded Book")
1 Comprehensive Master Card Reference Booklet (a/k/a "The Archive")
1 Comprehensive Scorepad
10 Wooden Occupied Tokens
18 Wooden Gold Occupied Tokens
20 Six-Point Shiny Metal Tokens
300+ Critter Meeple Stickers
5 Tapestry Art Signature Cards
8 Plastic Saddles
---
We Also Recommend