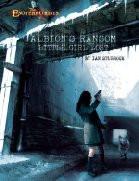 Esoterrorists : Albion's Ransom: Little Girl Lost + complimentary PDF
Little Girl Lost is a full-length campaign for The Esoterrorists. Written by Ian Sturrock, it's a race against time to rescue the daughter of your OV chief. It's set in the UK, but designed for US operatives.

Investigators Abroad
You're all experts in your field. The amount you know about the dire work of the Esoterrorists, it's a wonder you're not mad, or paranoid, but somehow you keep fighting. This could be your toughest case yet. First up, get the girl back. Next, find out if the Esoterrorists are involved. Then shut down their conspiracy. Finally. just try to stay alive.
It takes you to the grim North of England on what seems at first to be an ordinary missing persons case. Is this just a favor to set a respected colleague's mind at rest, or could something more sinister be at work?
Little Girl Lost includes:
* A complete adventure for The Esoterrorists
* Detailed appendices on British culture, life, and Esoterrorist activity
* Hundreds of clues
* Four Esoterrorists cults and one sinister cabal
Little Girl Lost - An apocalyptic investigation into the dark occult heart of England, from the Druids and mad poets to Crowley and the Satanists...
---
We Also Recommend