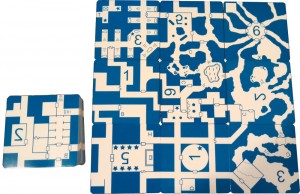 DungeonMorph Cards: Adventurer, Explorer & Spellunker
DungeonMorph Cards are 90 2.5"x2.5" cards. The back of each card is a mirrored version of the front. Each card matches one of side of a die from the DungeonMorph Dice sister products. Create a never-ending dungeon by dealing a card and lining it up with the others as the characters continue to explore!

- 90 2.5"x2.5" cards
- The back side is the reverse of the front side for even more combinations.
- Push them together and the corridors line up to make a never-ending dungeon or cave-complex.

This product was previously called "DungeonMorph Cards: Dungeons & Caverns".

---
We Also Recommend