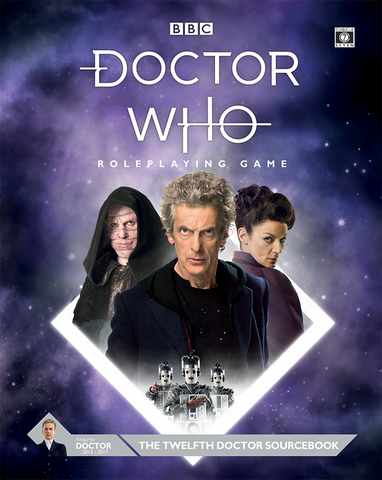 Doctor Who Twelfth Doctor Sourcebook + complimentary PDF
This Sourcebook explores the Twelfth Doctor's adventures on Earth and beyond. With detailed information on all the allies, enemies, aliens and gadgets they encounter, as well as examining each adventure, the book contains a wealth of material for the Doctor Who Roleplaying Game, and is also a fact-packed resource for fans of the show!
Gifted a new series of regenerations after rescuing the home-world they once thought they doomed, the Doctor barreled back into action. With a new lease of life and not a second to waste, the Doctor returned ready to save the universe — whether it wanted it or not. Duel with Robin Hood, journey to the center of a Dalek, outfox deadly two-dimensional killers, meet the Master's capricious new incarnation, and tell all of them to shut up!
Just one question… Do you happen to know how to fly this thing?
All orders come with a complimentary PDF
BBC, DOCTOR WHO, TARDIS, DALEKS, CYBERMAN and K-9 (word marks and logos) are trade marks of the British Broadcasting Corporation and are used under licence. BBC logo © BBC 1996. Doctor Who logo and WHO insignia © BBC 2018. Dalek image © BBC/Terry Nation 1963. Cyberman image © BBC/Kit Pedler/Gerry Davis 1966. K-9 image © BBC/Bob Baker/Dave Martin 1977. Licensed by BBC Studios.
---
We Also Recommend