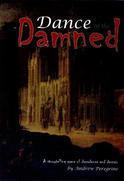 Dance of the Damned
WARNING: This game contains adult themes and images that may not be suitable fior children.Published by Corone Design
'There was much of the beautiful, much of the wanton, much of the bizarre, something of the terrible and not a little of that which might have excited disgust'. Edgar Allan Poe - The Masque of the Red Death.
A plague sweeps the land, destroying everything in its path. But you are safe within the walls of a great castle.
However, you may not be as safe as you appear, for the spectres of decadence and fear walk where the plague has been denied.
You are about to tell the story of those trapped in the castle, but will it be a tale of salvation, or one of decadence and despair?
A standard deck of playing cards is required for play.
WARNING: This game contains adult themes and images that may not be suitable fior children.
---
We Also Recommend