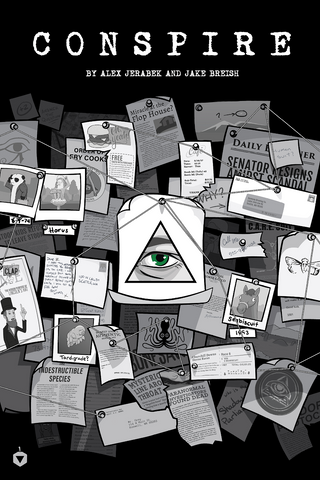 Conspire
Number of Players: 4-12
Playing Time: 30-90 minutes
Recommended Ages: 10+
At a Glance:
·         Rules-light, GM-less, one-off storytelling games
·         Free-form world building ensures the same story will never be told twice
·         Hidden roles and goals fill the game with mystery and intrigue
·         Fast-paced storytelling keeps the game light and hilarious
·         Influence tokens create absolute truths mid-game, making a one-of-a-kind, absurdist tale
·         Numerous in-book examples and illustrations let you visualize the conspiracy
Game Description:
Control the world, one story at a time.

Conspire is a hidden-role storytelling game. Players delve into any moment of conflict, real or fake, and populate the scene with shady figures. They secretly assign objectives to these in-world characters and shuffle the roles amongst themselves. Everyone draws a role to inhabit and acts them out, not knowing who any of the others are or what they are trying to accomplish. What follows is an intense tale of bluffing, brokering deals, and shaping the very universe to your whims.
Upset the powerful. Seize the power. Play Conspire.     
---
We Also Recommend