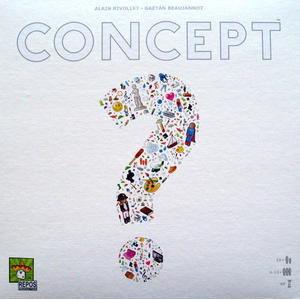 Concept Boardgame
Party game for 4-12 players, ages 10+, playing time around 40 minutes.
A large, green animal from long ago? Must be a dinosaur. Water, cube and cold weather? Has to be an ice cube. A man with a job who rides large brown animals in the United States? Is that a cowboy?
In Concept, players team up to place tokens on a board covered in icons, depicting everything from ancient samurai and snails to Leonardo DiCaprio. Points go to the player who can guess the correctly by looking at the various symbols, but in this wild party game, the points are less important than just having a great time!
Engaging and fun for the whole family.
Use your creativity and imagination to solve the riddles from the visual clues.
Easy rules have everyone playing in minutes.
---
We Also Recommend