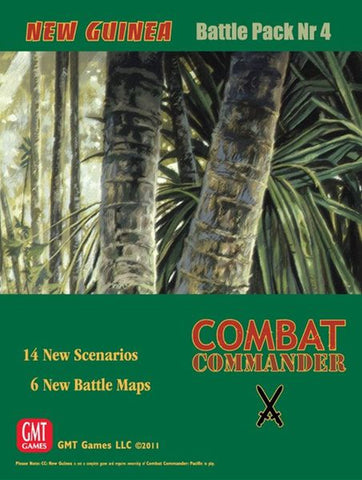 Combat Commander Battle Pack 4: New Guinea
Combat Commander: Battle Pack #4 - New Guinea is the fourth themed collection of scenarios for use with the Combat Commander series of games. The theme of this fourth Battle Pack shifts to the actions in New Guinea from January 1942 through July 1944, following the major campaign phases with characteristic actions. CC -New Guinea features fourteen new scenarios printed on cardstock as well as six new maps.

Rules relevant to the characteristic fighting in the coastal jungle versus the highlands are included as needed for each scenario, without the need of an additional rule booklet. A number of unusual, creative special scenario rules cover the unique situations represented, including Air Supply, Barge Landing, Canebreak and Coastal Jungle, Emplaced M3 Tanks, Joint Allied Operations including the Papuan Infantry Battalion, Patrol Dogs, Swamp Holes and Swamp Forest.
The new maps depict specific locations in New Guinea: the beachhead at the base of Mt Vulcan across from Rabaul, the village of Oivi, a high-mountain ridge overlooking Eora Creek, a strongpoint on the Soputa-Sanananda Road, the edge of the airstrip at Wau, and one of the crossings of the Driniumor River near the Afua Trail.
---
We Also Recommend