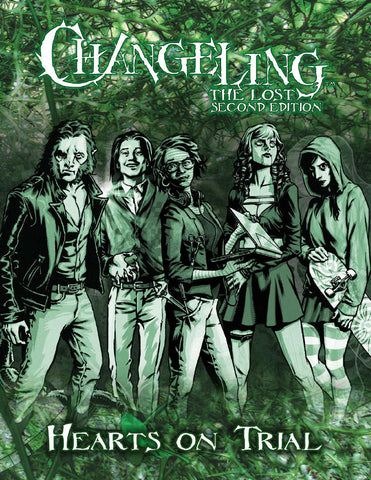 Changeling The Lost : Hearts on Trial
Once upon a time...
That's how the stories always start, but you know better. You know it wasn't once upon a time, but just yesterday. Just tomorrow. Just every day for the rest of your life.
Welcome to the Chronicles of Darkness. A world like our own, but more beautiful, more terrible; infinitely more dangerous and more tempting. Faerie monsters from your nightmares and your wildest fantasies reach out from the other side of dreams.
You know, because you've been there. And you've come back, forever changed.
You are a changeling, one of the Lost. You'll never let them take you again. You swear it.
Hearts on Trial includes:
Rules for creating and playing changelings in the Chronicles of Darkness
A selection of fae Contracts, otherworldly tricks and powers of the Lost
A complete adventure for you to play right out of the book, with five full, pre-generated characters
A preview of rules from

 

Changeling: The Lost Second Edition

 

and the

 

Chronicles of Darkness

 

core rulebook,
---
We Also Recommend