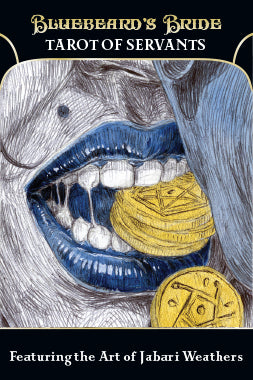 Bluebeard's Bride: Tarot of Servants
The Tarot of Servants is a fully illustrated dark-occult tarot deck that features horrors from Bluebeard's mansion.  This 84 card deck twists the traditional Rider Waite tarot and expands it with alternate Major Arcana from the Deck of Thoth.  Inspired by the fairy tale roleplaying game, Bluebeard's Bride, this deck contains all you need for traditional or custom readings, as well as serving as a toll you can use to create Bluebeard's loathesome servants during a game of Bluebeard's Bride.
Bluebeard's Bride is based on the Powered by the Apocalypse system used in Apocalypse World, Monsterhearts, Urban Shadows, and more. Bluebeard's Bride produces adult feminine horror fiction like Crimson Peak, American Horror Story, or The Company of Wolves, making it fun for horror fans and dark fairy tale fans alike.
---
We Also Recommend