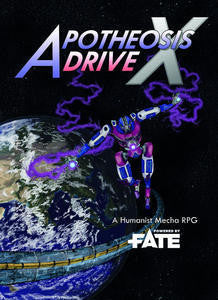 Apotheosis Drive X
Apotheosis Drive X, , game_A OtherDX, is a Fate-powered mecha RPG. Think Gundam, Evangelion, Xenogears, and Pacific Rim meets Fate.
In 2433, we understand everything but human nature.
We fight with Titans, giant monsters of steel, blasting nuclear plasma across the cosmos to resolve our conflicts. But the truth is, we're resolving nothing. We're escalating.
As technology speeds forward, we approach apotheosis. We approach a moment where we redefine what it means to be human.
We're redefining humanity through the auspices of our weapons. We're embracing destruction. We now have to ask ourselves, why should humanity be saved?
Apotheosis Drive X is a humanist mecha RPG, powered by Evil Hat's Fate Core engine. This book is a completely self-contained game. You just need four Fate Dice to play.
---
We Also Recommend