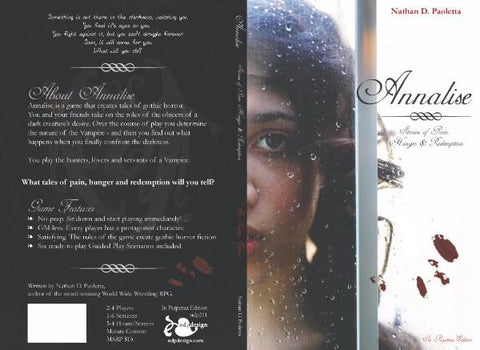 Annalise In Perpetua Edition + complimentary PDF
This book comes with a free PDF version courtesy of the publisher in conjunction with the "Bits 'n' Mortar" scheme. A link from which the PDF can be downloaded will be emailed to the address you enter at the checkout once we have confirmed payment, which will normally be within 2 working days* of receipt of orders for products that are currently in stock. (*not including Sundays or UK national holidays). PLEASE NOTE - you will need to enter a valid email address at checkout in order to receive the PDF.
Softcover core rules from Nathan Paoletta
Something is out there in the darkness, watching you. You feel it's eyes on you. You fight against it, but you can't struggle forever. Soon, it will come for you.
What will you do?
Annalise is a game that creates tales of Gothic horror. You and your friends take on the roles of the objects of a dark creature's desire. Over the course of play you determine the nature of the Vampire - and then you find out what happens when you finally confront the darkness.
You play the hunters, lovers and servants of a Vampire. What tales of pain, hunger and redemption will you tell?
Game Features:
No-prep. Sit down and start playing immediately!
GM-less. Every player has a protagonist character.
Satisfying. The rules of the game create Gothic horror fiction.
Annalise's Journal, a 24-page illustrated short story dripping with atmosphere.
Six ready-to-play Guided Play Scenarios showcasing the diversity of the game.
Works well for 2, 3 or 4 players and takes between 1 and 6 sessions to play.
120 pages, 7'x9' landscape perfectbound softcover.
---
We Also Recommend