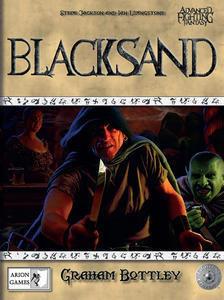 Advanced Fighting Fantasy: Blacksand + complimentary PDF
The ancient and deadly city of Port Blacksand is a veritable nest of thieves, pirates, and other undesirables. Despite this, or even because of this, the city is a magnet for adventurers looking for fame, glory, and treasure'and a few find what they are looking for.
An essential sourcebook for any city-based Advanced Fighting Fantasy game, Blacksand contains a full guide to the city, its inhabitants and landmarks with all-new maps, complete with a gazetteer detailing districts, major organizations, personalities, and adventure hooks.
---
We Also Recommend