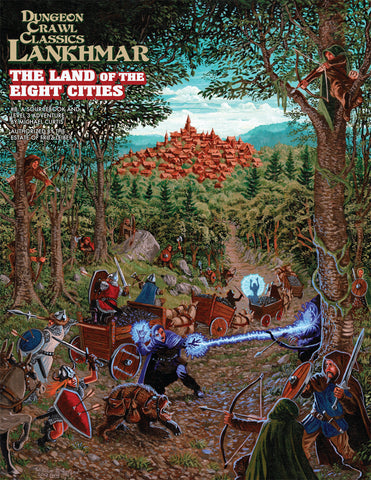 Dungeon Crawl Classics RPG Lankhmar: #8: The Land of Eight Cities
A setting book for Lankhmar!
North of Lankhmar lies The Land of the Eight Cities, a young realm lying in the shadows of the Great Forest and rich in natural resources. This barely-tamed wilderness is rife with opportunities for adventure and riches, but also contains hitherto-unknown dangers. Nevertheless, for adventurers who've worn out their welcome in Lankhmar, the Forest Land is a welcoming place to escape their enemies in the City of the Black Toga.
This work is based upon an unpublished manuscript written by Fritz Leiber, one never before seen outside of his personal papers and discovered during a research trip to the University of Houston library. For the first time in decades, new information, creatures, and even gods, all created by Leiber, are presented for use in your DCC Lankhmar campaign! You'll find details on the people, places, customs, and history of The Land of the Eight Cities, as well as plenty of inspiration for adventures to place there. It's the perfect resource for when the Thieves' Guild is breathing down your players' necks and they need a place to lay low!
Also included in this book is a report University of Houston research trip and select photos of the personal papers and possessions of Fritz Leiber, Harry Otto Fischer, and others housed in the university's Special Collections department. These images and background information will interest fans of Leiber's creative genius regardless of whether they are gamers, readers, or both.
Officially licensed from the estate of Fritz Leiber.
---
We Also Recommend