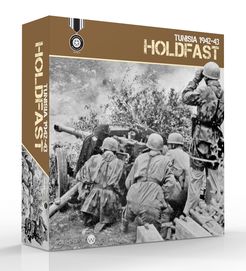 Holdfast Tunisia
Holdfast Tunisia is a 2 player game that allows players to refight the decisive North African WWII campaign in Tunisia using Worthington Publishings Holdfast gaming system.
Designed by Matt Looby. The game plays in 2 to 3 hours. The game comes with approximately 60 blocks and labels to represent the Axis and Allied forces, a hard mounted game board, rules, dice, and player aids.
Players will maneuver their blocks over the sands of North Africa as the German player tries to hold off the British, and for the first time in WWII European theater, American forces. The blocks add fog of war so you never know what your opponents forces are until locked in combat.
Complexity 3 out of 10. The game can easily be played solo by playing each side to the best of your ability.
---
We Also Recommend