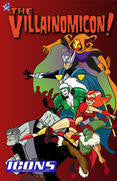 Icons: The Villainomicon - reduced
Supplement for Icons. Publisher: Cubicle 7 Entertainment.
BRING ON THE BAD GUYS!
Villains are crucial to superheroes. They don't just provide antagonism - they demonstrate exactly what it is that makes the hero a hero. They highlight the strengths of the character and stand in direct contrast to everything the character represents. The best heroes are often defined by their nemesis.
The first supplement for the ICONS Superpowered Roleplaying game, THE VILLAINOMICON provides Game Masters with a rogues' gallery of dozens of villains ready to use -- but it doesn't stop there. The supplement provides new powers, new specialties, optional rules and dozens of adventure hooks-- making THE VILLAINOMICON more than just a 'monster manual' for superhero gaming.
---
We Also Recommend