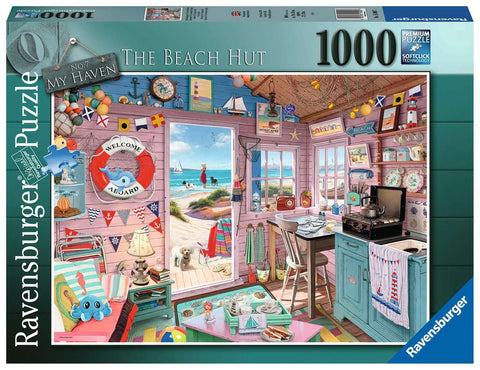 Jigsaw: My Haven No 7. The Beach Hut (1000pc)
You'll find no better place to be than "The Beach Hut" down by the sea!

The long, warm days of summer are here, and what better place to be than by the sea, enjoying life in your very own "luxury" beach hut?  This welcoming retreat has places to sit, work (if you have to), make refreshments and wash up.  It's packed with the owner's favourite seaside-themed bits and pieces, alongside everything you'd need for a day at the beach - chairs, rugs, buckets, spades and fishing nets.  Our lucky owner is having a paddle and is happily gazing out to sea, accompanied by her trusty canine friends.  She seems to be so lost in the view that she may have forgotten her bacon sandwich … and we think the cheeky chappie waiting outside the door may get to it before she does! Our 1000 piece jigsaws are crafted with FSC premium quality and measure 70 x 50cm when complete. Great for Adults and ideal puzzles for Children 12 years old and up. Fully complies with all necessary UK and EU testing standards.

---
We Also Recommend