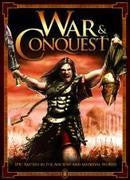 War and Conquest
Ancient & Medieval Wargames Rules from Scarab Miniatures.
Case bound (Hard back) 176 pages. Full colour throughout.
War and Conquest is the first in an exciting range of high quality wargames rules and source books from Scarab Miniatures Limited. War and Conquest is aimed at wargamers and collectors of 28mm miniature Ancient and Medieval armies but can easily be adapted for other scales.
The book has been written by Rob Broom (former Warhammer Historical Manager) and designed by Pete Borlace, who was responsible for the Legends of the Old West and High Seas books at Warhammer Historical, along with a number of other Games Workshop projects.
---
We Also Recommend