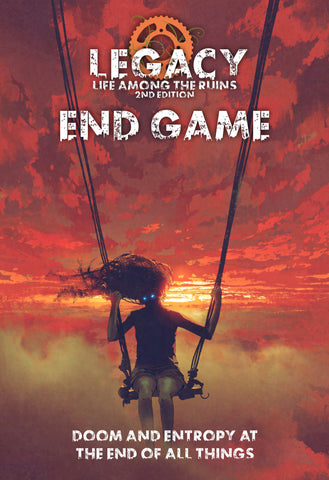 Legacy: End Game + complimentary PDF
THE APOCALYPSE WAS JUST THE BEGINNING
The main shock of the Fall is over, and we survived that... barely. But the world's remnants are fragile, teetering on the precipice of oblivion. And even if we hold it together, the wasteland's creatures are far better adapted to this new world than we could ever be...
In this 136-page full colour hardback supplement you'll find all sorts of horrors and torments to plague your game of Legacy: Life Among the Ruins – UFO Press' game of post-apocalyptic communities and generational storytelling, using the Powered by the Apocalypse system.
Key Features:
New rules segments: Traitorous characters, Nightmares for players to test themselves against, and a Doom Clock to let GMs unfurl a terrible danger.
Essays on doom and struggle: Isolation by Kira Magrann, Tragedy by Slade Stolar, Synergy and Creative Playing by Arthur Pinto de Andrade, and Strategy by Norman Rafferty.
Seven new families: Take control of the plague-empowered Ascendant Afflicted, the opulent and necromantic Deathless Elite, and more.
Six new character playbooks: Embody pre-Fall culture as the Herald, soak in roaring engines and brutal tragedies as the Road Warrior, find allies among the broken and dark things of the world as the Warlock, and more.
Four new wonders: Change the world with the Tartarus Site, the Watchtower, the Crucible and the Race to the Stars.
A new Quickstart: Fight for survival on the hellish planetoid of Todesfalle.
---
We Also Recommend