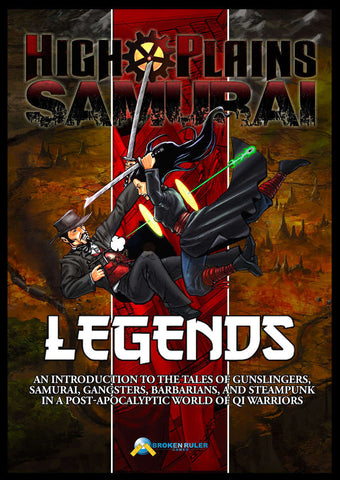 High Plains Samurai: Legends - reduced
An Introduction to the Tales of Gunslingers, Samurai, Gangsters, Barbarians, and Steampunk in a Post-Apocalyptic World of Qi Warriors
"These are not mere contraptions built from the scrap metal of old, my dear apprentice. These are the foundation for a new world, and those who build them control its fate."  – Deckland Burr, creator of The Salvation 
The One Land used to be a place of beauty, co-operation, and progress. It was the envy of all the known universe, built and nourished under the guidance of the Elemental Spirits that created it. We were their chosen ones, gifted with sentience, emotion, and creativity. All until the All-Father, creator of everything, became jealous of this world doted on by his children. So he came down in his true form and sought to wipe it from existence. His children fought back to protect what they had built and locked the All-Father (now known by his proper name, Chaos) within the Shard of Hope.
That was then. This is now. The battle of Chaos' Wrath ruined this once idyllic paradise and left us scrambling to make ends meet under the fury of the warlords controlling the remaining Five Cities. And let us not forget about the Wastes, the nuclear desert where Chaos began his path of destruction. Things are bleak and a world this damaged needs heroes to rise up and show the people hope against the odds. That hope begins with Legends.
High Plains Samurai: Legends provides a one-shot experience to this storytelling RPG of epic exploits against a post-apocalyptic, high fantasy setting. Acting as both a preview for the upcoming High Plains Samurai Roleplaying Game and a stand-alone version, players will have a chance to tell their own versions of three storylines using condensed rules and pre-generated lead characters. Master the political intrigue and dangers of Yung Zhi while bringing in the gunrunner, Dollface, in Showdown In Yung Zhi; survive another day on the Salvation as it races through the Wastes in To Catch A Train; and discover the vengeance and sheer power of the legendary figure known only as Black Scorpion.
A perfect way to bring HPS to your favourite convention or as an introduction to your friends before the release of the HPS core rulebook (currently slated for late Fall 2018).
Your Legends are only the beginning.
Explore the world of HPS like never before at
 

highplainssamurai.com with the Atlas of the One Land. A free weekly blog providing new locations, creatures, and supporting character to enhance your adventures. 
---
We Also Recommend